Shipping


Free Shipping:
We offer Free Shipping on orders over $49 to most metro and major regional areas, please check your postcode with a postage calculator on every product page. The shipping cost will be set to $0 if eligible.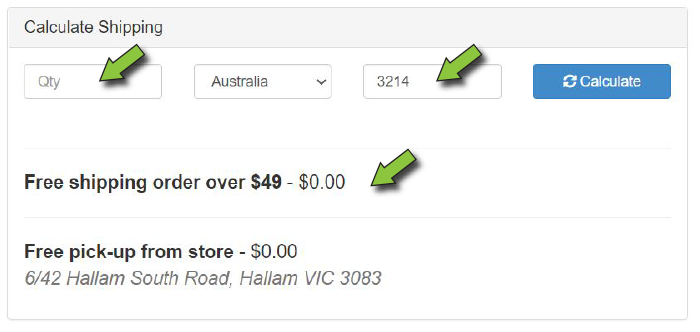 Non-free Shipping:
We offer the lowest freight charge possible to the areas not within the free shipping areas, there is a postage calculator link on every product page that will give you an estimated shipping quote with different delivery methods. You can simply enter your postcode for a postage price. If you wish to calculate postage for multiple items simply add items to your shipping cart then click on view cart and add your postcode.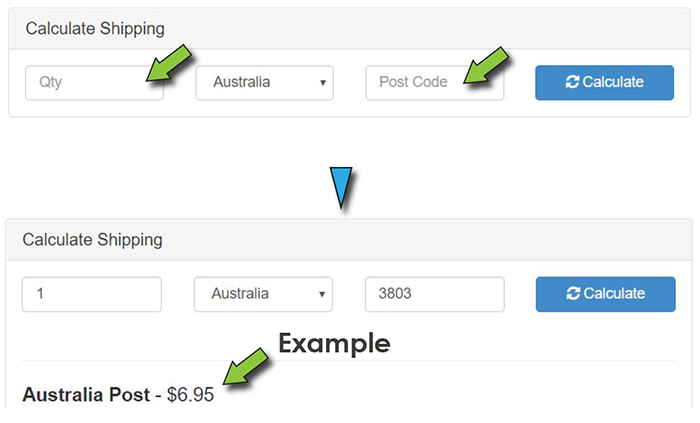 Dispatch time:
We guarantee your order will be dispatched as soon as possible, all orders usually despatched within 1 working day
- A.M Order/ P.M Dispatch,
- P.M Order/Next Business Day Dispatch.
Please kindly note that dispatch times may increase during peaks periods such as Christmas, New Year and Easter. And It is also important to keep in mind that we sell across multiple platforms such as eBay, website, in-store pickup. As such, it is always possible, however highly unlikely, that slight shipping delays can occur and we will let you know if there are any reason delays in the dispatch process.
If you have already paid but the item is not in stock, we will issue a full refund back to your account and the transaction will be refunded in the same manner it was applied.
Need to know when your order will be delivered? Check below for our estimated delivery timings.
| Regular | Express | Area | Post Code |
| --- | --- | --- | --- |
| 2-4 | 1-2 | Sydney Metro | 1000-2249,2555-2579,2740-2786,2890 |
| 3-5 | 1-2 | Gosford | 2250-2263 |
| 3-5 | 2-3 | Newcastle | 2282-2310 |
| 3-5 | 1-2 | Wollongong | 2500-2506,2515-2530 |
| 2-4 | 2-3 | Canberra | 0200-0299,2600-2620,2900-2920 |
| 4-6 | 2-3 | NSW Country | 2264-2281,2311-2499,2507-2514,2531-2554,2580-2599,2621-2739,2787-2889,2891-2899 |
| 1-3 | 1-2 | Melbourne Metro | 3000-3210,3335-3341,3425-3443,3750-3811,3910-3920,3926-3944,3972-3978,3980-3983,8000-8999 |
| 1-3 | 1-2 | Geelong | 3211-3220 |
| 1-3 | 1-2 | Ballarat | 3350,3353-3356 |
| 2-4 | 1-2 | VIC Country | 3221-3334,3342-3349,3351-3352,3357-3424,3444-3749,3812-3909,3921-3925,3945-3971,3979,3984-3999 |
| 3-5 | 1-2 | Brisbane Metro | 4000-4209,4500-4549,4900-4999,9000-9596 |
| 4-6 | 1-2 | Gold Coast | 4210-4229,9700-9799 |
| 4-6 | 2-3 | Ipswich | 4300-4307 |
| 4-6 | 2-3 | Sunshine Coast | 4550-4575 |
| 4-6 | 2-3 | QLD Country South | 4230-4299,4308-4449,4576-4689,9597-9599,9880-9919 |
| 5-9 | 2-3 | QLD Country North | 4450-4499,4690-4899,9920-9999 |
| 2-4 | 1-2 | Adelaide Metro | 5000-5199,5800-5999 |
| 3-5 | 2-3 | SA Country | 5200-5749 |
| 4-6 | 2-3 | Perth Metro | 6000-6214,6800-6999 |
| 5-7 | 2-3 | WA Country Near | 6215-6699 |
| 10-14 | 2-5 | WA Country Far | 6700-6797,6798-6799 |
| 3-6 | 1-2 | Tasmania | 7000-7150,7152-7999,7151 |
| 5-9 | 2-3 | Northern Territory | 0800-0999 |
*** P

ostage times could differ

during peak periods such as Christmas, New years and Easter. ***