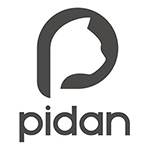 Pidan Cat Litter Tray Snow mountain Litter Box Toilet
A Gift That Gives Cat Purity and Naturalness
The inspiration came from a snow mountain, a gift that gives your cat purity and naturalness
The mysterious Kawagebo mountain has a spotless tranquility. The design is inspired by this tranquility of the snow-capped mountain. The opening has flow line with a natural vitality that brought the purity of nature to the cat.
Open cat litter box, clean the litter with ease
The embedded and detachable structure makes the litter box's lid to be easily separated from the base.
Easy to detach for cleaning in just 3 steps
1. Smooth the litter 2. Lift up the lid of the litter box 3. Replace the litter
The capacity of the litter box is just right
It is recommended to pour 3kg capacity of the cat litter at a time. Clean the litter box regularly to keep the interior clean. (The litter box can hold 6kg of cat litter)
Spacious space
Cats of various size can enter and leave this pure, clean, and comfortable toilet environment freely. (A 6.5kg cat can also use it conveniently)
A device that removes the excess litter off the cat's paw
Entrance footboard with vertical stripes tilting inwards reduces litter from taken out of the litter box.
A reasonably extended height of the edge
Recessed litter box wall reduces litter being splashed out while cats cover their feces and urine and prevent urine leakage.
Pair with litter shovel with holder
A curved wide surface shovel makes scooping easy. The shovel holder makes storing more convenient.
Pure, clean, and eco-friendly with reliability assured
Using IONPURE anti-bacterial technology, your cat can receive the same security protection of a baby grade so the reliability can be assured.
Smooth elegant streamline and simple color choices
This litter box has a temperament of tranquility and elegance and can be integrated into different styles of the home environment.
Color available in tranquil white and cool grey
Product Features
Inspired by the snow mountain, pure and elegant

Split open design, breathable and fresh, easy to move and clean

Made of polypropylene with IONPURE Japanese antibacterial technology, safe and reliable

Litter tray with moderate capacity, easy to use. Fitting up and down prevents cat urine leakage

Color available in tranquil white and cool grey​
Product Content
1 x Pidan Cat Litter Tray Snow mountain Litter Box Toilet​

​​
(PDNCLT)
---
More From This Category